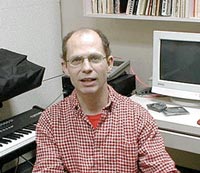 Jay Kerr Fort Salem Theater
Eleven East Broadway, PO Box 10
Salem, New York 12865
cell: 212.582.5118 land: 518.854.9200 jay@jaykerr.com

EDUCATION:
A.B., English; Princeton University
M.A., Mass Communications; California State University, Northridge
ACADEMIA:

Staff or Adjunct Faculty at:
Writers' Workshop (Co-facilitator), Princeton University Triangle Club; California State University, Northridge; HB Studio, New York; West Side YMCA Theater Arts Program, NYC; Estelle Harman Actors' Workshop, Hollywood.

CONSULTANT/COACH:
Coach to Phil Silvers for A Funny Thing Happened on the Way to the Forum, for which Silvers won the Tony Award; Musical Consultant to Dreyfuss/James Productions on film in development to be directed by and starring Richard Dreyfuss; Accompanist, Coach, or Instructor to, among others: Ina Balin, Elayne Boosler, Dorothy Collins, Sandy Dennis, Elizabeth Franz, Debbie Gravitte, Mister Greenjeans, Bob Gunton, Hal Linden, Jane Olivor, Teri Ralston, Martin Vidnovic, Dee Wallace, Lillias White, and Joanne Woodward.
COMPOSER/LYRICIST:
Starcrossed: A Tale of Tragedy and Triumph in Old Hollywood, book by Al Budde, based on a story by Kate Brex, Fort Salem Theater, Salem, NY
Corn! The Musical, book by Al Budde - Fort Salem Theater, Salem, NY
Breakfast Epiphanies, lyrics by Kerr and Al Budde, book by Budde - Fort Salem Theater, Salem, NY
Alice of Old Vincennes, lyrics by Laurel Smith, book by James Spurrier - Red Skelton Center for the Performing Arts, Vincennes, Indiana
Moonlight on the Wabash, A Musical Revue by Jay Kerr, lyrics by Kerr and various collaborators- Vincennes University, Indiana
Pyrates, lyrics by Barbara Kahn - Theater for the New City, NYC
War Bonds, lyrics by Barbara Kahn - Theater for the New City, NYC, CD on Original Cast Records
Arthur! A Boy Becomes King - Broadway (The Playhouse Theatre); TYA regional tour; The Theatre, West Hollywood
Pinocchio - Greenwich Mews Theater; WNYC-TV, New York (PBS)
Little Red Riding Hood: A Feminist Ecological Musical - California State University, Northridge
W*A*S*P, A Musical Revenge - Variety Arts Center, LA; Freddy's, NY.

Cabaret Writing and Performance: Musical Supervision and Special Material for Neva Small: Not Quite an Ingenue and producer of CD of same, directed by Pamela Hall and featuring musical director Don Rebic and bassist Dick Sarpola; Special Material for various artists, including writing collaborator Ed Kulkosky's Becoming Santa; longtime songwriting collaboration with Arthur Kirson (50 songs), including A Million Dreams, recorded by Judy Kreston and David Lahm.

Lynne Kerr: Songs My Husband Wrote, CD Recording.

Additional collaborations: Lady Fashion, with Carmel Rosa; Stages, with Mitch Uscher; The Gods Are Only Human, with Norman Beim.

RECENT MUSICAL DIRECTION:

Ongoing performances at The Cabaret at Fort Salem Theater featuring Broadway and Cabaret performers.

Broadway Sings "The Odd Potato," with Frank Gorshin & Charlotte Rae (2003) and CD featuring 20 Tony Award winners, including Jim Dale, Sutton Foster, Judy Kaye, John Mahoney and Elaine Stritch (www.theoddpotato.com); also Old Friends - (Eighty-Eights, New York): a revue performed by eight singers over sixty. Great Expectations - CD (Original Cast Records) original adaptation starring Sally Ann Howes, George S. Irving, Tovah Feldshuh and Neva Small. Come On Over: The Songs of Gladys Shelley - (Don't Tell Mama, New York). Women by Women - (Steve McGraw's, New York) a revue of songs examining the female human condition, with lyrics written only by women.

Princeton University Triangle Club: Musical Supervisor - Absurd to the Wise (2001); Puns of Steel (2000); The Blair Arch Project (1999); 101 Damnations (1998); In Lava and War (1998); t's a Wonderful Laugh (1997); The Tiger Roars, celebration of Princeton's 250th Anniversary (1996); Pulpit Fiction (1996).
Lessons
Broadway
Touching Magic
Marginalia
Home
Links
E-mail
JAY KERR began his professional musical career at the age of fourteen as a church organist. He worked for thirty years as a church musician, held cue cards for televisions's Captain Kangaroo, produced military and USO shows that toured Southeast Asia during the Vietnam conflict, shared the bill with Bette Midler at New York's Continental Baths, wrote children's musicals, taught in a military school, parochial schools, acting schools and universities, and served as the principal of a junior high school.

For years as a vocal instructor working in his own midtown Manhattan studio, he is now Artistic Director at Fort Salem Theater, in Salem, NY, where he continues to consult with producers and educators and compose and perform in new projects.